Activities
The church is a hub for the community with many activities held during the week. These are a mix of external activities as described in the Calendar and those organised by the church with some examples below.
Bible and prayer groups
Friday Biblegroup: 10 to 11.30 am. Each week a friendly group of six to ten people meet in the Quiet Room to study the bible together and pray. The leader prepares a bible passage and questions for us to discuss over coffee, and we finish with a few minutes of prayer. Everyone is welcome. Bibles may be borrowed, or bring your own.
We also have a Homegroup running on Thursday evenings, and a Christian meditation group in the vestry on Wednesdays at 7.30pm.

For more information about any of our fellowship groups, please contact Jane or one of the elders."


Knit and Natter
The Knit and Natter group meets fortnightly for an informal get-together. Over a cup of tea and biscuits we knit garments and soft toys. We are currently working on Teddy bears, hats, scarves and gloves to be included into the Shoe Box appeal at Christmas. We also make tiny blankets for the premature baby unit at the Lister Hospital and knee rugs for our Minister to take out to our house-bound church members.
If you would like to join us please contact Jean on 07816274963
Tea Dances
We hold monthly tea dances on Saturdays between 2.00pm and 4.00pm. There is an assortment of ballroom and sequence dances and the DJ is happy to include any special requests. Dances are on the first Saturday of each month. Ring Jean on 07816274963 for further details.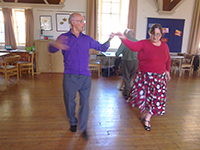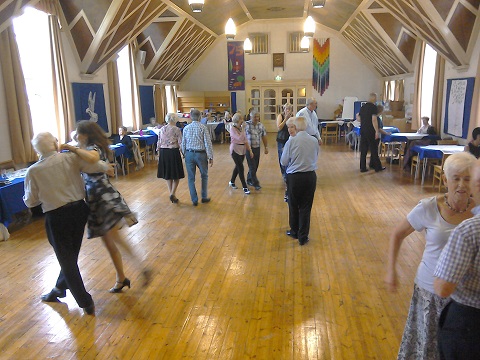 Thursday Club
The Club meets every 2 weeks on the first and third Thursday and everyone is welcome. Its a place for friendship and chat over tea and biscuits with visiting speakers, quizes and outings in the summer.

For information contact Joyce via the church office
Baby Group
The Baby Group meets on Wednesday afternoon - for more information and a link to the Facebook page please see the Familiies page.
Chatter and Tots
The Toddler Group continues to thrive on Thursday mornings during term time and there is still no shortage of new recruits. A chance for the toddlers to play followed by singing and then drinks and biscuits for everyone. Chatter and Tots starts at 9:30am and finishes at 11:30am.

Christian Meditation
Our Christian Meditation Group has been meeting for nearly two years now. We meet in the Minister's Vestry every Wednesday evening from 7.30 to 8.30, discuss how we are, listen to a recorded talk, pray and then meditate for 20 minutes, closing with a brief prayer. We welcome people from all denominations and none.
We find this a wonderful practice, opening us up to the love of Jesus which is within each one of us. Do speak to Jane if you would like to know more about it.
Community Coffee Morning
The Coffee morning runs every Tuesday between 10 and 12. Drop in for coffee, tea and a chat.
For details contact Liz via the Church office on 01707 333326