About Us
We think of ourselves as a church for the whole Community, for worship and as a place for many social groups to gather.
The church has a non-conformist background and we have evolved to provide an uncomplicated Christian service with well loved hymns, modern songs, bible readings , prayers and meaningful sermons.
We are part of the United Reformed Church which traces its roots back to the Presbyterian Church, the Congregational Church and the Churches of Christ .
We maintain strong relationships with other URC churches in Hertfordshire and are part of a group of churches called Heartland which comprises of Wheathampstead – Harpenden – WGC – Brickett Wood – Chiswell Green – Homewood Road – Trinity – St. Ninian's – Bury Park – Edward Street – St. Katherine's – Wigmore.
Our local cluster includes the churches in Wheathampstead and Harpenden.This allows us to share our resources and to join in worship.
The Revd Jane Weedon was recently inducted into the Heartland Group and Mid Herts Cluster at Harpenden Church - pictured here with the Presiding Minister - the Revd Dr Andrew Prasad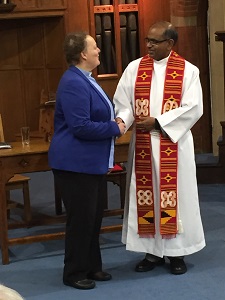 You can find a link to the national URC site here http://www.urc.org.uk
Details about the local Thames North Synod is here http://www.urcthamesnorth.org.uk