Welcome
Details of our Sunday worship and youtube is here
To read our latest Church Magazine click here
---
Our Facebook feed
We are a growing church in the heart of the town. We think of ourselves as open to the whole Community, for worship, christian growth and a welcoming place for many social groups to gather. Taking inspiration from Jesus in Matthew 5 v 16 , we believe our church is called to "Let your light shine"
We were formerly called the Free Church but after we re-united with Woodhall Lane URC in 2014 we are now known as Welwyn Garden City URC. We have a wide range of worship and community activities based in and around our building.
Our Church is part of the United Reformed Church,which traces its roots back to the Presbyterian Church, the Congregational church and the Churches of Christ and the Bible has a central place in all our worship.
Many of our church activities are run by volunteers and there are lots of opportunities for involvement
Celebrate with us on the weekend of September 18th and 19th...
details to follow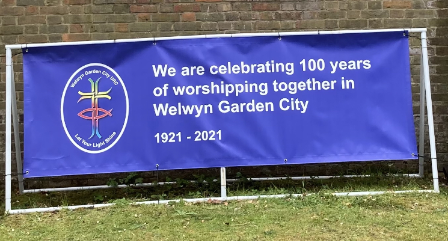 Prayers in a Pandemic
God of the Ages,
to whom a day is as a thousand years,
be with us as we wait for infections to decrease,
for data to be analysed,
for decisions to be made,
and for life to return to something more normal.
But help us, O God,
to learn from these long months,
to value new ways of accessing worship,
new ways of ministry,
and new patterns of working,
that we may not return unquestioningly to the old
but listen to your voice speaking through the chaos.
Amen.
By the Revd Andy Braunston who works with four churches in and around south Glasgow
CHARITY NUMBER : 1167010