Welcome
Until we can meet up again our Sunday worship is here on youtube
We are optimistically planning to gather in the church again for worship on May 23rd to celebrate Pentecost
To read our latest Church Magazine click here
---
Our Facebook feed
We are a growing church in the heart of the town. We think of ourselves as open to the whole Community, for worship, christian growth and a welcoming place for many social groups to gather. Taking inspiration from Jesus in Matthew 5 v 16 , we believe our church is called to "Let your light shine"
We were formerly called the Free Church but after we re-united with Woodhall Lane URC in 2014 we are now known as Welwyn Garden City URC. We have a wide range of worship and community activities based in and around our building.
Our Church is part of the United Reformed Church,which traces its roots back to the Presbyterian Church, the Congregational church and the Churches of Christ and the Bible has a central place in all our worship.
Many of our church activities are run by volunteers and there are lots of opportunities for involvement
Celebrate with us on the weekend of September 18th and 19th...
details to follow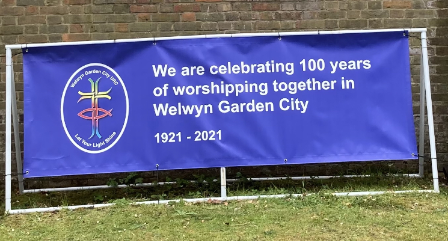 Prayers in a Pandemic
Lord Jesus,
On this Ascension Day,
we remember that your perspective is so much wider than ours.
You know how each person's experience of the pandemic has been unique.
Help us not to make assumptions about others.
We pray particularly for those whose circumstances
have made the last year especially difficult.
We pray too for generous and open access to everything
that will help to deal with any of the wide ranging effects of the pandemic.
Amen.
The Revd Jacky Embrey, Minister in the Bolton and Salford Missional Partnership
CHARITY NUMBER : 1167010